Tomato ketchup traces its roots back to the 17th century, when British sailors brought a tangy concoction of tomatoes, vinegar, and spices from Southeast Asia. Over time, tomato ketchup evolved into the beloved savory condiment we know today.
This tomato ketchup recipe pairs exceptionally well with a myriad of dishes. Elevate your burgers, fries, and hot dogs, or add a zing to grilled meats and sandwiches. It's also a delightful companion to eggs, pasta, and even as a dipping sauce for crispy snacks.
View steps to make Tomato Ketchup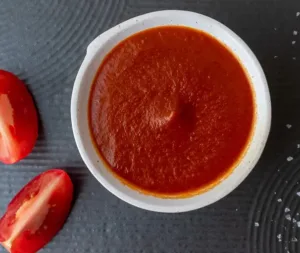 Tomato Ketchup Ingredients
Utensils
---
Making the Tomato Ketchup
Savor the rich flavors of homemade tomato ketchup all year round. Whether slathered on a summer barbecue or accompanying winter comfort foods, its versatility enhances any dish.