Mint sauce finds its origins in the fusion of British and Middle Eastern cuisines. This timeless condiment has evolved into a staple, celebrated for its unique blend of fresh mint, vinegar, and sugar.
What sets mint sauce apart is its remarkable versatility. It's not just a classic accompaniment to lamb; it's a flavor enhancer that elevates a myriad of dishes, from roasted vegetables to grilled meats and even desserts.
View steps to make Mint Sauce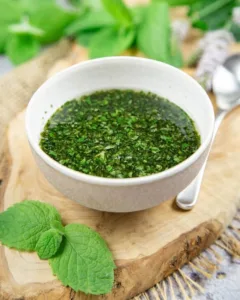 Mint Sauce Ingredients
Utensils
---
Making the Mint Sauce
Notes & Tips
Once you're done, you can use mint sauce immediately or let it sit in the refrigerator for a few hours to allow the flavors to meld together.
While traditionally associated with lamb, mint sauce knows no bounds. Its versatility shines when paired with various dishes—enhancing the savory goodness of grilled meats, adding depth to roasted vegetables, and surprising the taste buds when drizzled over desserts. The possibilities are as endless as the refreshing flavor it brings.
Elevate your meals with the invigorating essence of mint sauce. Enjoy!