Apple sauce, a timeless delight, was initially enjoyed as a convenient way to preserve apples. Over the years, it has evolved into a beloved condiment worldwide. The simple blend of apples, sugar, and sometimes spices creates a versatile treat enjoyed in various cultures.
Perfect for any season, this versatile condiment pairs beautifully with sweet and savory dishes alike. Try it with roast pork, atop breakfast treats, or as a healthier baking substitute. Elevate your meals with the warm, comforting essence of apple sauce.
View steps to make Apple Sauce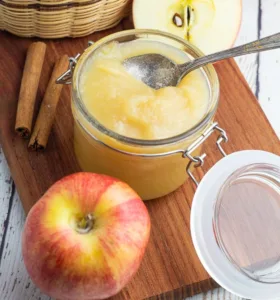 Apple Sauce Ingredients
Utensils
---
Making the Apple Sauce
Apple sauce is a versatile partner in the culinary world. It complements both sweet and savory dishes. Pair it with roast pork for a classic combination, dollop it on pancakes or waffles for a breakfast treat, or use it as a healthier alternative to oil in baking. Its flexibility makes it an excellent addition to various cuisines and dishes.