Mushroom sauce, a savory and rich accompaniment, has its roots in European cuisine. The use of mushrooms in culinary practices dates back centuries, with various cultures incorporating these fungi into their traditional dishes. The earthy, umami flavor of mushrooms lends a unique depth to this sauce, making it a versatile and beloved component in many recipes.
View steps to make Mushroom Sauce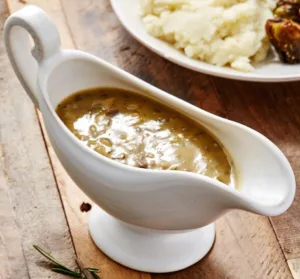 Mushroom Sauce Ingredients
Utensils
---
Making the Mushroom Sauce
Rehydrating the dried porcini mushrooms
Sauté the aromatics
Prepare the fresh mushrooms
Make the roux
Prepare the mushroom sauce
Blend the sauce
Finish the sauce
Serve
Notes & Tips
Actual times may vary depending on your experience and the specific model of Thermomix you're using. Adjust the sauce's consistency and seasoning according to your taste preferences.
Enjoy mushroom sauce drizzled over a succulent steak, mixed into creamy risotto, or generously poured over pasta. It also elevates vegetarian options like grilled portobello mushrooms or stuffed bell peppers, showcasing its adaptability across various cuisines.