Hollandaise sauce, a classic French emulsion, traces its roots to 17th-century France. It is the perfect companion for eggs Benedict, effortlessly transforming a breakfast staple into a gourmet delight. It also complements asparagus, grilled fish, and steamed vegetables, enhancing their natural flavors with its velvety touch.
View steps to make Hollandaise Sauce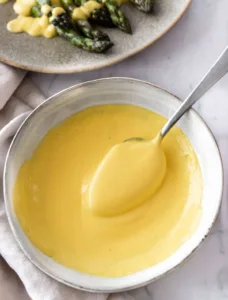 Hollandaise Sauce Ingredients
Utensils
---
Making the Hollandaise Sauce
Notes & Tips
Please note that these times are approximate and may vary based on the specific model and settings of your Thermomix. Always use caution when working with hot ingredients and be sure to follow the manufacturer's instructions for your particular Thermomix model.
This luscious sauce is a versatile addition to any meal, but it shines brightest during leisurely brunches and decadent dinners. Its rich, creamy consistency elevates dishes to a level of culinary sophistication.