Tartare sauce is a classic condiment renowned for its zesty and tangy flavor profile. This delectable sauce boasts versatility that extends beyond its traditional accompaniment for seafood. Tartare sauce serves as a flavorful enhancement for various dishes, adding a refreshing kick to everything from fish and chips to grilled meats and vegetable fritters.
View steps to make Tartare Sauce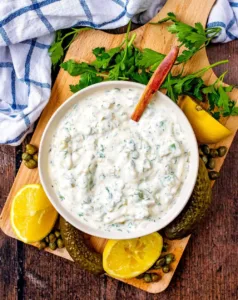 Tartare Sauce Ingredients
Utensils
---
Making the Tartare Sauce
Whether enjoyed alongside a summer seafood feast or as a dipping sauce for crispy appetizers at any time, the freshness of tartare sauce elevates the dining experience.