Originating from the British Isles, buttermilk scones have become a cherished treat enjoyed worldwide. These delightful pastries boast a tender, flaky texture and a subtle tanginess, thanks to the inclusion of buttermilk in the dough.
Traditionally served at afternoon tea or breakfast, buttermilk scones have evolved into a versatile baked good that can be paired with various toppings like clotted cream, jam, or even enjoyed on their own.
View steps to make Buttermilk Scones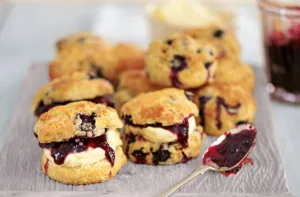 Buttermilk Scones Ingredients
Utensils
Oven Tray

8cm x 19cm (base) square cake pan
---
Making the Buttermilk Scones
Preheat Oven
Prepare Dough
Add Buttermilk
Shape and Cut
Arrange and Bake
Serve
Notes & Tips
Tips: Serve with jam and whipped cream
Variations:
1. Spiced Date Scones: Add 1/3 cup finely chopped dried dates and 1 tsp mixed spice after the mixture resembles breadcrumbs.
2. Basil and Parmesan Scones: Add 1/4 cup finely chopped basil leaves and 1/4 cup grated Parmesan cheese after the mixture resembles breadcrumbs.
3. Bacon and Chives Scones: Cook 4 chopped shortcut bacon rashers. Add them after the mixture resembles breadcrumbs, along with a tablespoon of finely chopped fresh chives.
Discover the timeless charm and irresistible taste of buttermilk scones – a classic that transcends cultural boundaries. Perfect for any occasion, these scones promise a delightful journey of flavors in every bite.