Five seed bread is a wholesome and nutritious bread variety that combines the goodness of different seeds for a delightful and hearty flavor. Originating from the rich traditions of artisanal baking, this bread is a blend of craftsmanship and nutritional excellence.
Crafted with a mix of five distinct seeds, such as flaxseeds, sunflower seeds, pumpkin seeds, chia seeds, and sesame seeds, this bread offers a symphony of textures and flavors. Each seed contributes its unique nutritional profile, packed with essential vitamins, minerals, and omega-3 fatty acids, making it a healthy choice for those seeking a well-rounded diet.
View steps to make Five Seed Bread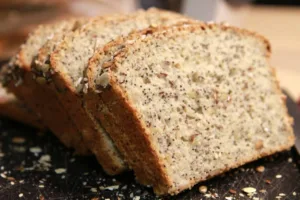 Five Seed Bread Ingredients
Utensils
---
Making the Five Seed Bread
Notes & Tips
Important Note: The dough may be sticky, but resist the urge to add more flour. This will result in a delightful light rise and a wonderfully moist finish to the loaf. Ensure the dough reaches the top of the tin before baking.
Indulge in the nutty and robust taste of five seed bread, perfect for sandwiches, toasts, or enjoyed on its own. Elevate your daily bread experience with the wholesome goodness of nature's finest seeds, expertly baked into every loaf.