This delicious and simple hot fudge sauce recipe is a family favourite. You cant go wrong with this delicious hot fudge sauce on your icecream. You will wish you made more!
With only three ingredients, it is a simple and quick recipe to make when you need that extra bit of decadence the next time you are entertaining for 10 or for 1 when it comes to dessert.
View steps to make Hot Fudge Sauce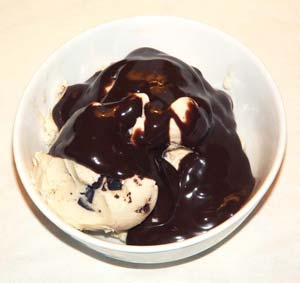 Hot Fudge Sauce Ingredients
Utensils
---
Making the Hot Fudge Sauce
Notes & Tips
Makes one cup of hot fudge sauce.
Hot fudge sauce is a rich and decadent dessert topping made from two main ingredients: chocolate and cream.
It is typically served warm and poured over ice cream or other desserts, adding a deliciously indulgent touch to any sweet treat.
The sauce is a thick and glossy sauce that is perfect for drizzling over ice cream or dipping fruits or other treats into.
Some variations of hot fudge sauce may include additional ingredients such as vanilla extract or espresso powder for added flavor.
Whether served as a dessert topping or used in baking, hot fudge sauce is a beloved treat that is sure to satisfy any chocolate lover's cravings.