The spicy fruit crumble is a quick and easy dessert with fruit and delicious crumble. This is a comfort pudding with a wildly simple fruit recipe that is naturally sweetened by the fruit making it absolutely irresistible.
The flavour is full and the ingredients are mostly healthy too. You will be eating apple, apricots, sultanas coconut and pecans to name a few.
View steps to make Spicy Fruit Crumble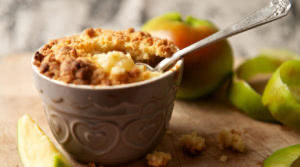 Spicy Fruit Crumble Ingredients
Utensils
---
Making the Spicy Fruit Crumble
Notes & Tips
Goes perfectly served with vanilla ice-cream on a cold winters night.
Spicy fruit crumble is a delicious and comforting dessert that combines the sweetness of fruit with the warmth of spices.
The dish typically includes a variety of fruits, such as apples, pears, and berries, that are mixed with a blend of warm spices, such as cinnamon, nutmeg, and ginger. The mixture is then topped with a crumbly mixture made from flour, butter, and sugar, which creates a crispy and golden topping when baked in the oven.
The result is a warm and comforting dessert that is perfect for cold winter nights or any time you crave a sweet and spicy treat. Spicy fruit crumble is often served with a scoop of vanilla ice cream or a dollop of whipped cream, which complements the warm and spicy flavors of the dish.
It is a versatile dessert that can be made with a variety of different fruits and spices, and is sure to become a family favorite.