The spicy fruit crumble is a quick and easy dessert with fruit and delicious crumble. This is a comfort pudding with a wildly simple fruit recipe that is naturally sweetened by the fruit making it absolutely irresistible.
The flavour is full and the ingredients are mostly healthy too. You will be eating apple, apricots, sultanas coconut and pecans to name a few.
View steps to make Spicy Fruit Crumble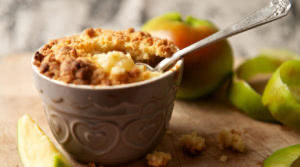 Spicy Fruit Crumble Ingredients
Utensils
---
Making the Spicy Fruit Crumble
Notes & Tips
Goes perfectly served with vanilla ice-cream on a cold winters night.
Tagged in Dessert Recipes In the following cuisines British Recipes Published on Posted on Add Comment