This delicious bread and butter pudding recipe has remained a favorite for many years.
It is most popular in cooler months but perfect all year round. Make sure to leave room for seconds!
Bread and butter pudding is a popular bread pudding made by layering slices of buttered bread in an oven dish. It is combined with currants and egg custard mixture then frosted with icing sugar.
View steps to make Bread and Butter Pudding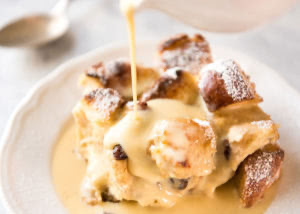 Bread and Butter Pudding Ingredients
Utensils
---
Making the Bread and Butter Pudding
Notes & Tips
Decorate with a fresh mint sprig
Tagged in Dessert Recipes In the following cuisines British Recipes Published on Posted on Add Comment