Tandoori chicken is a classic Indian recipe that will please the whole family. The tender chicken has incredible depth of flavour and is simple to make.
Although the tandoori is traditionally cooked in a tandoor (small clay oven), today we will be cooking ours in the conventional oven.
View steps to make Tandoori Chicken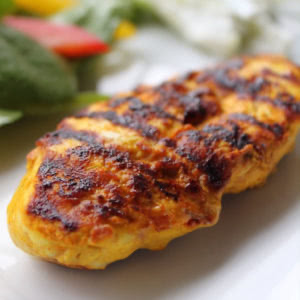 Tandoori Chicken Ingredients
Utensils
---
Making the Tandoori Chicken
Tandoori chicken is a popular Indian dish that is marinated in a mixture of yogurt and spices, then grilled or baked in a tandoor, a traditional Indian clay oven.
The marinade typically includes a blend of aromatic spices such as cumin, coriander, turmeric, and garam masala, along with ginger, garlic, and chili powder. The addition of yogurt helps to tenderize the chicken and also adds a tangy flavor to the dish.
Tandoori chicken is often served with naan bread, rice, or a side of vegetables, and is a popular dish in Indian restaurants around the world. It is also a great dish to make at home for a flavorful and healthy meal that is sure to impress.