The banana cake is a delicious and moist cake that the whole family will love. This cake is a quick and easy way to put a delicious treat on the table for guests. For an even richer treat, ice your cake with cream cheese icing.
The banana cake also tastes great if you skip the icing and slice it into small pieces then lightly toast it and smother with butter.
View steps to make Banana Cake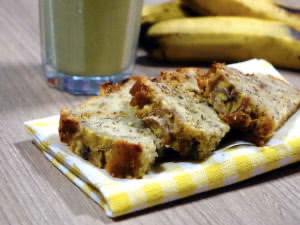 Banana Cake Ingredients
Utensils
---
Making the Banana Cake
Notes & Tips
Optionally sprinkle the cake mixture with cinnamon and sugar before baking.
Banana cake is a delicious and moist cake that is made with ripe mashed bananas. It is a great way to use up overripe bananas that might otherwise go to waste.
Banana cake is typically made with simple ingredients like flour, sugar, eggs, butter, baking powder, and baking soda, along with mashed bananas that provide natural sweetness and moisture.
The mashed bananas are combined with the other ingredients to create a smooth batter that is then baked in the oven until it is light and fluffy. The cake can be served as a simple snack or dessert, or can be dressed up with frosting or toppings like chopped nuts, whipped cream, or chocolate chips.
Banana cake is a popular dessert option that is loved by many due to its delicious taste and versatility. It is also a great way to add some extra nutrition to your diet, as bananas are a good source of fiber, potassium, and Vitamin C.