A crepe or crêpe is a type of very thin pancake that originates from France.
There are sweet and savoury types of crepes but this recipe is all about the sweet crepe.
Crepes can be served with a wide variety of fillings. Crepe fillings can be sugar, strawberries and icing sugar, hazelnut chocolate spread, mixed berries or fruits or even with spirits and briefly set alight (flambéed).
Savoury crepes can have a variety of fillings too but this crepe recipe has sliced strawberries and sprinkled icing sugar on it.
View steps to make Basic Crepes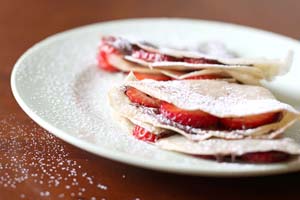 Basic Crepes Ingredients
Utensils
---
Making the Basic Crepes
Notes & Tips
Makes 30 Crepes.
Optionally add chocolate spread, sliced strawberries and a light sprinkle of icing sugar.
Tagged in Breakfast Recipes, Dessert Recipes In the following cuisines French Recipes Published on Posted on Add Comment