You can try to make pancakes as fancy as you want but nothing beats this classic blueberry pancakes recipe. It is an extremely simple recipe with only 4 ingredients. These blueberry pancakes are sure to be a hit at breakfast.
Serve the pancakes while still hot and stack them as high as you want. Blueberry pancakes go well with maple syrup, whipped cream and ice cream depending how sweet you want your breakfast to be.
View steps to make Blueberry Pancakes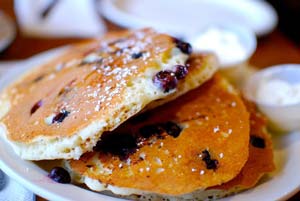 Blueberry Pancakes Ingredients
Utensils
---
Making the Blueberry Pancakes
Notes & Tips
Optionally serve with maple syrup and ice cream or whipped cream.
Add a light sprinkle of icing sugar for effect.
You can use any type of milk that you want. It doesn't have to be soy.
Tagged in Breakfast Recipes, Dessert Recipes, Snack Recipes Published on Posted on Add Comment