You can try to make pancakes as fancy as you want but nothing beats this classic blueberry pancakes recipe. It is an extremely simple recipe with only 4 ingredients. These blueberry pancakes are sure to be a hit at breakfast.
Serve the pancakes while still hot and stack them as high as you want. Blueberry pancakes go well with maple syrup, whipped cream and ice cream depending how sweet you want your breakfast to be.
View steps to make Blueberry Pancakes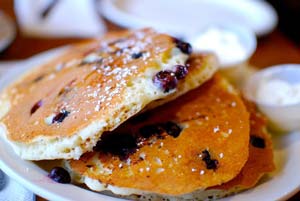 Blueberry Pancakes Ingredients
Utensils
---
Making the Blueberry Pancakes
Notes & Tips
Optionally serve with maple syrup and ice cream or whipped cream.
Add a light sprinkle of icing sugar for effect.
You can use any type of milk that you want. It doesn't have to be soy.
Blueberry pancakes are a popular breakfast dish that features fluffy pancakes filled with juicy blueberries.
The pancakes are typically made from a batter consisting of flour, sugar, baking powder, salt, eggs, milk, and melted butter.
Once the batter is prepared, fresh or frozen blueberries are gently folded in to create a burst of sweetness and tanginess in every bite. The pancakes are then cooked on a griddle or in a pan until golden brown and fluffy.
Blueberry pancakes can be served with butter, maple syrup, whipped cream, or additional blueberries for a delicious and decadent breakfast treat. The addition of blueberries not only adds flavor, but also provides a healthy dose of antioxidants and nutrients like Vitamin C and fiber.
Blueberry pancakes are a beloved breakfast dish that can be enjoyed any time of year, and are especially popular during the summer months when fresh blueberries are in season.