The spinach damper or cob loaf dip is the perfect vegetarian recipe for easy entertaining. If you are catering for a crowd this dip will look great on the table and is packed full of flavour.
Its a simple and affordable meal or snack to share especially when you are told to bring a plate. The spinach mixed in with the sour cream and mayonnaise and damper bowl turns it into a healthy and filling alternative to the usual bring a plate options.
View steps to make Spinach Damper Dip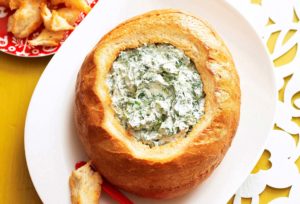 Spinach Damper Dip Ingredients
Utensils
---
Making the Spinach Damper Dip
Notes & Tips
The damper can be exchanged for any type of cob loaf bread.
Tagged in Snack Recipes In the following cuisines Australian Recipes Published on Posted on Add Comment