Put an extra bit of spice in your life with this Kashmiri rice recipe. The perfect accompaniment for one of your favourite meat or vegetable dishes.
There are many different types of Kashmiri rice recipes. This recipe uses authentic spices and fine ingredients to make an authentic taste.
View steps to make Kashmiri Rice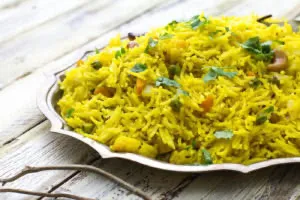 Kashmiri Rice Ingredients
Utensils
---
Making the Kashmiri Rice
Notes & Tips
Serve with your favorite meat or vegetarian dish, plus a generous serving of vegetables or salad.
Kashmiri rice is a flavorful and aromatic rice dish that is a staple in the cuisine of the Kashmir valley in India.
The dish is made with long-grain basmati rice that is cooked with a blend of aromatic spices, dried fruits, and nuts. The spices typically used in Kashmiri rice include cinnamon, cardamom, cloves, and saffron, which give the dish its distinctive flavor and aroma.
Dried fruits such as raisins, apricots, and dates are added to the rice during cooking to provide a subtle sweetness and chewy texture, while nuts like almonds and cashews add crunch and richness to the dish. The result is a fragrant and flavorful rice dish that is perfect for serving with spicy curries, grilled meats, or roasted vegetables.
Kashmiri rice is a delicious and unique dish that is sure to impress guests and add some exotic flair to any meal.