Tiramisu is a popular coffee-flavoured Italian dessert. The rich flavour of this liqueur dessert is a sure way to please the crowd.
It is made with sponge-finger biscuits dipped in coffee, layered with a whipped mixture of eggs, sugar and mascarpone cheese, flavoured with cocoa.
View steps to make Tiramisu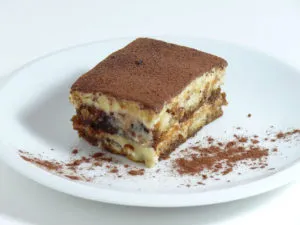 Tiramisu Ingredients
Utensils
---
Making the Tiramisu
Notes & Tips
Tiramisù means "pick me up" in Italian.
Cream can be used as an alternative to Mascarpone cheese.
Tiramisu is a classic Italian dessert that is beloved around the world. It is a rich and creamy dessert made from ladyfingers soaked in coffee and layered with a sweetened mixture of mascarpone cheese, eggs, and sugar.
The dessert is typically topped with cocoa powder or grated chocolate and served chilled.
Its name means "pick me up" in Italian, as it is often enjoyed as a sweet and indulgent pick-me-up after a meal.
Tiramisu is a delicious and decadent dessert that is perfect for any occasion, and its rich flavors and creamy texture make it a favorite of dessert lovers everywhere.