Bechamel sauce, also known as white sauce, has its roots in French cuisine and is considered one of the five mother sauces. Its creation is credited to the 17th-century French chef François Louis Beauvilliers. The sauce gained popularity for its velvety texture and versatility in enhancing a variety of dishes.
This indulgent sauce is timeless and can be enjoyed year-round. Whether drizzled over a comforting winter lasagna or incorporated into a light summer vegetable gratin, bechamel sauce adds a touch of creamy luxury to any meal.
View steps to make Bechamel Sauce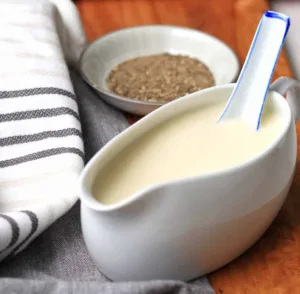 Bechamel Sauce Ingredients
Utensils
---
Making the Bechamel Sauce
Bechamel's mild and silky nature makes it a versatile companion to a myriad of dishes. It forms the base for classic dishes like lasagna, moussaka, and macaroni and cheese. Additionally, it harmonizes beautifully with vegetables, fish, and even as a topping for baked dishes.