Traditionally, lasagne consists of wide, flat sheets of pasta layered with béchamel sauce, ricotta or mozzarella cheese, and a savory meat sauce. The dish is then baked to perfection, creating a harmonious blend of textures and flavors.
The best time to enjoy lasagne is during family gatherings, celebrations, or whenever you crave a comforting and hearty meal. Its versatility makes it suitable for any occasion, from casual dinners to festive feasts.
View steps to make Lasagne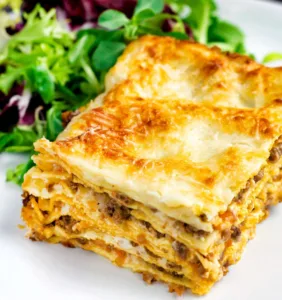 Lasagne Ingredients
Utensils
---
Making the Lasagne
Pair lasagne with a crisp green salad or garlic bread to complement its robust flavors. A well-balanced red wine, such as a Chianti or Sangiovese, can elevate the dining experience and add a touch of sophistication. Enjoy your home-made lasagne!