Butter chicken with garam masala is a tantalizing variation of the classic Indian dish, known for its aromatic spices and rich, creamy texture. Originating in the vibrant culinary landscape of North India, this flavorful rendition adds an extra layer of warmth and depth to the traditional butter chicken recipe.
In this delectable version, the chicken is immersed in a luxurious gravy made from tomatoes, cream, butter, and the aromatic punch of garam masala. The result is a culinary masterpiece that satisfies the palate with a perfect balance of heat and richness.
View steps to make Butter Chicken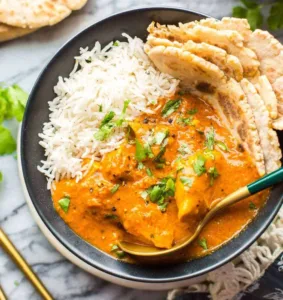 Butter Chicken Ingredients
Utensils
---
Making the Butter Chicken
Prep Work
Saute Aromatics
Tomato Base
Cashew Paste
Cook the Base
Chicken and Spices
Creamy Finish
Final Steps:
Notes & Tips
Preparation time excludes cashew soaking time.
You can find the recipe for Garam Masala here.
Whether paired with fluffy naan or aromatic basmati rice, butter chicken with garam masala offers a sensory journey through the heart of Indian cuisine. The infusion of these exotic spices adds a distinctive touch to the dish, creating an unforgettable dining experience that transcends borders.