Ideal for any season, Bolognese sauce is a versatile delight. Its hearty, slow-cooked flavors make it a comforting winter dish, while its rich tomato and meaty profile also suits summery pasta nights.
View steps to make Bolognaise Sauce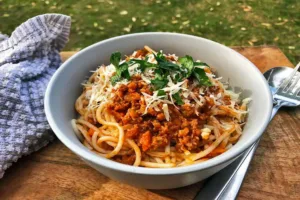 Bolognaise Sauce Ingredients
Utensils
---
Making the Bolognaise Sauce
Notes & Tips
This recipe should serve approximately 6-8 people, and the total preparation and cooking time is estimated to be around 45-65 minutes. Keep in mind that cooking times may vary based on your specific Thermomix model and settings, so it's essential to monitor the sauce's consistency as it cooks and adjust the time accordingly.
Here's a Lasagne Recipe that makes use of Bolognaise Sauce. Enjoy!
Bolognese sauce is a perfect companion for various pasta shapes, such as tagliatelle or pappardelle, creating a marriage of flavors and textures. Additionally, it pairs well with gnocchi or serves as a delightful filling for lasagna. A sprinkle of Parmesan or Pecorino cheese adds a finishing touch.