Pumpkin soup is a delicious and comforting dish. This hearty soup has become a culinary staple enjoyed worldwide.
The best time to savor pumpkin soup is during the cooler months, particularly in the fall and winter seasons. Its warm and velvety texture provides a soothing experience, making it an ideal choice for chilly evenings or holiday gatherings.
View steps to make Pumpkin Soup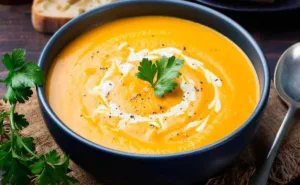 Pumpkin Soup Ingredients
Utensils
---
Making the Pumpkin Soup
Classic
Asian-style Pumpkin Soup
Notes & Tips
Adjust the amount of water to achieve the desired consistency of the pumpkin soup.
Pairing pumpkin soup with crusty bread or a side of garlic-infused croutons enhances the dining experience, adding a delightful contrast of textures. For a more indulgent twist, a dollop of sour cream, a sprinkle of roasted pumpkin seeds, or a drizzle of truffle oil can elevate the flavors and presentation.