Savor the timeless comfort of homemade tomato soup, a classic dating back to 18th-century Europe. Perfect for any season, pair it with a grilled cheese sandwich or enjoy its refreshing goodness on its own. Simple, soul-warming, and a culinary journey through time.
Ideal for any season, tomato soup shines in colder months, offering warmth and comfort. Its light and refreshing nature also make it a delightful choice during summer when served chilled.
View steps to make Tomato Soup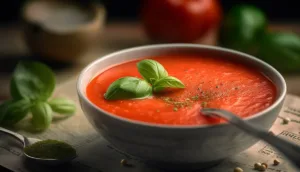 Tomato Soup Ingredients
Utensils
---
Making the Tomato Soup
Preparation
Sautéing
Cooking
Blending
Final Touch
Notes & Tips
Serve the tomato soup hot, garnished with a drizzle of olive oil and additional fresh parsley if desired.