Pairing seamlessly with roasted turkey, chicken, mashed potatoes, and biscuits, gravy is a culinary chameleon that enhances the flavors of a variety of dishes. Gravy's ability to transform a simple meal into a culinary masterpiece has secured its place as a beloved condiment in kitchens around the world.
View steps to make Gravy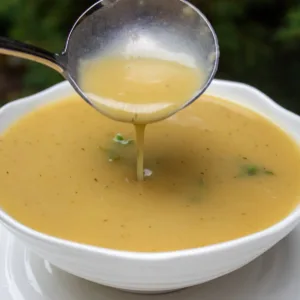 Gravy Ingredients
Utensils
---
Making the Gravy
The best time to indulge in the luscious goodness of gravy is during hearty meals and festive occasions. Whether drizzled over roast meats, mashed potatoes, or biscuits, gravy adds a comforting and indulgent touch to any dish. Its warm, satisfying taste makes it a perfect companion for holiday feasts, Sunday dinners, or any gathering where culinary delight takes center stage.