Beetroot salad, a vibrant and nutritious dish, has its origins in Eastern Europe, where beets have been a dietary staple for centuries. Over time, it has become a global favorite, celebrated for its earthy sweetness and health benefits.
The best time to savor the refreshing crunch of beetroot salad is during warmer seasons, making it an ideal choice for spring and summer. Its light and refreshing qualities make it a perfect addition to picnics, barbecues, or as a colorful side dish for any outdoor gathering.
View steps to make Beetroot Salad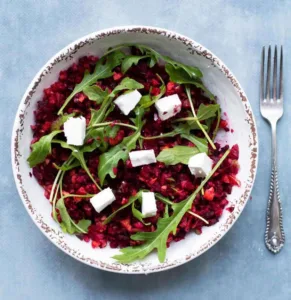 Beetroot Salad Ingredients
Utensils
---
Making the Beetroot Salad
Prepare the Beetroots
Grate the Carrots
Prepare the Apple
Prepare the Dressing
Combine the Ingredients
Toss and Marinate
Serve
Whether accompanying grilled chicken, seafood, or simply enjoyed on its own, beetroot salad adds a burst of color and nutrition to your plate.