The French 75 cocktail Champagne and Gin based cocktail originating in France. The cocktail is also know as the 75 Cocktail or the Soixante Quinze (meaning Seventy Five in French).
Its origin dates back to the first world war and said to have got its name from a French 75mm field gun. This is because the combination of ingredients was said to have a kick like it felt being shelled by the powerful weapon.
The French 75 cocktail is similar to the Tom Collins cocktail with Champagne replacing the soda water.
View steps to make French 75 Cocktail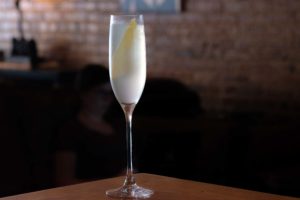 French 75 Cocktail Ingredients
Utensils
---
Making the French 75 Cocktail
Notes & Tips
The cocktail is served straight up without ice and can be garnished with a sprig of lemon skin.
Tagged in Drink Recipes In the following cuisines French Recipes Published on Posted on Add Comment