The classic Mai Tai cocktail is a rum and citrus tasting cocktail originating in California in the early 1940's. It has become a contemporary classic in many restaurants and bars, particularly tiki-themed.
The Mai Tai cocktail uses white rum, dark rum, orange curaçao, orgeat syryp and lime juice.
View steps to make Mai Tai Cocktail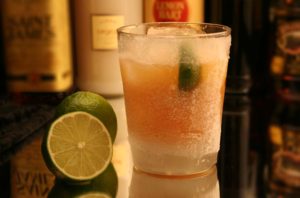 Mai Tai Cocktail Ingredients
Utensils
---
Making the Mai Tai Cocktail
The Mai Tai cocktail is a classic tropical cocktail that is made with rum, lime juice, orange curaçao, and orgeat syrup, and is typically served over ice in a Tiki-style glass.
This Mai Tai cocktail recipe makes a refreshing and fruity cocktail that's perfect for sipping on a warm day or at a tropical-themed party.
The Mai Tai is a versatile cocktail that can be adapted to suit your taste preferences. Try using different types of rum, or adjust the amount of lime juice and orgeat syrup to make it sweeter or more tart. Give this classic and exotic cocktail a try and transport yourself to a tropical paradise.