ANZAC biscuits have had a long association with the Australia and New Zealand Army going all the way back to World War 1. The ANZAC biscuit recipe was created to ensure the biscuits would keep well during transportation from loved ones on the front line.
Although the ANZAC biscuit has become a symbolic biscuit of remembrance on ANZAC day (25 April), it is an easy and tasty snack to have on any occasion. The biscuits are quite chewy and crisp, with a long shelf-life.
View steps to make Anzac Biscuits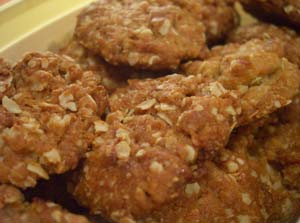 Anzac Biscuits Ingredients
Utensils
---
Making the Anzac Biscuits
Notes & Tips
Using brown sugar instead of white sugar gives more colour and flavour.
You can replace the shredded coconut with more syrup and oats.
Anzac biscuits are a classic Australian biscuit that were originally created during World War I as a way to send care packages to Australian and New Zealand soldiers serving overseas. They are made with rolled oats, coconut, golden syrup, and flour, and are known for their crisp texture and buttery, caramel-like flavour.
Anzac biscuits are a delicious and nostalgic treat that are perfect for snacking or gifting. They are also a great way to teach kids about the history and culture of Australia and New Zealand. Give this classic biscuit a try and enjoy its rich and comforting flavours.