This delicious beef burger recipe is a mouth-watering and juicy meal that is sure to satisfy the fussiest of burger eaters. The crisp edges and flavoursome combination of ingredients is what makes this smashburger so good.
View steps to make Smashburger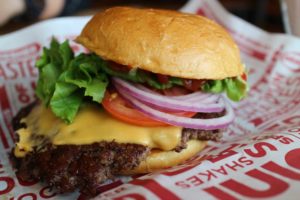 Smashburger Ingredients
Utensils
---
Making the Smashburger
The Burger Patty
The Burger Bun
The Burger
Notes & Tips
To make a double burger, smash two 85 gram portions of meat to make 2 slightly smaller patties. The smaller patties cook about 30 seconds less than the 100 gram patties.
The meat should be loose. Don't be tempted to form into a tight patty. It is the star of the show and shouldn't be overpowered by the seasoning and condiments.
A smashburger is a type of burger that's made by "smashing" a ball of ground beef onto a hot griddle or skillet. This technique creates a crispy, caramelised crust on the burger and a juicy, flavourful interior.
Smashburgers are a popular and delicious way to enjoy a classic burger. They are quick and easy to make, and the smashing technique creates a unique texture and flavour that's sure to satisfy your cravings. Give this simple yet tasty burger a try and enjoy its crispy, juicy goodness.