Its combination of sweetness, citrus, and herbaceous mint flavors is intended to complement the rum, and has made the mojito cocktail recipe a popular summer drink.
View steps to make Mojito Cocktail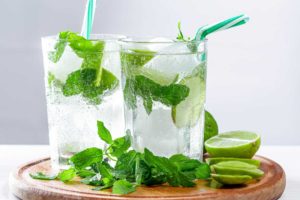 Mojito Cocktail Ingredients
Utensils
Cocktail Glass

(Collins glass)
---
Making the Mojito Cocktail
The mojito cocktail is a refreshing and classic Cuban cocktail that has gained popularity worldwide. The mojito has a light, crisp flavour that is perfect for summer days or any time you want to enjoy a refreshing drink.
This mojito recipe makes a versatile cocktail that can be adapted to your personal taste preferences. For example, you can add fresh fruit like strawberries or blueberries for a fruity twist, or use a different type of rum for a unique flavour profile. Regardless of the variations, the mojito is a delicious and refreshing cocktail that is perfect for any occasion.