A Bloody Mary is a famous cocktail containing 3 parts Vodka, 6 parts Tomato Juice and 1 part Lemon Juice. The cocktail has a lot of variations and can use a number of different alcoholic spirits although vodka is the original ingredient.
This drink is often consumed in the morning as a hangover cure. Its vegetable base helps to settle the stomach, salt to replenish lost electrolytes and alcohol to relieve head and body aches. It also might just be a placebo rather than a real hangover cure.
View steps to make Bloody Mary Cocktail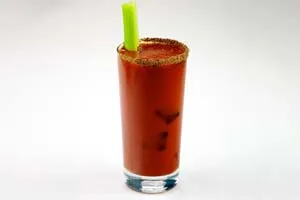 Bloody Mary Cocktail Ingredients
Utensils
---
Making the Bloody Mary Cocktail
The Bloody Mary cocktail is a classic and popular alcoholic drink that is typically enjoyed as a brunch cocktail. It is a bold and savoury cocktail that is made with tomato juice, vodka, and a variety of spices and seasonings.
The Bloody Mary is a customisable cocktail, so feel free to adjust the spice level and seasoning to your taste. Some people like to add in horseradish or clam juice for an extra kick.
This Bloody Mary recipe is a flavourful and satisfying cocktail drink that's perfect for enjoying with a brunch spread or as a refreshing drink on a hot day. Give this classic cocktail a try and enjoy its bold and savoury flavours.