What better way to have your ribs than with a sweet chilli sauce glaze and fresh handmade coleslaw! This sweet chilli ribs with coleslaw recipe is a crowd favourite at any family or friend BBQ get together.
The ribs are sweet and tender with a slight chilli kick and it is complimented with the cold coleslaw packaged together with some oven baked chips.
View steps to make Sweet Chilli Ribs With Coleslaw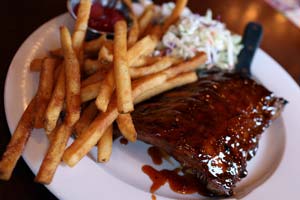 Sweet Chilli Ribs With Coleslaw Ingredients
Utensils
---
Making the Sweet Chilli Ribs With Coleslaw
Coleslaw with Lemon Dressing
Sweet Chilli Ribs With Coleslaw
Notes & Tips
Goes well served with french fried chips.
Nutritional count per serving: 25.8g total fat (6.4g saturated fat); 1717kJ (410 cal); 13g carbohydrate; 28.3g protein; 6.2g fibre.
Sweet chilli ribs with coleslaw is a delicious and satisfying meal that's perfect when barbecuing or any time you're craving some hearty and flavourful food. This dish is made with tender pork ribs that have been marinated in a sweet and spicy chilli sauce, and served with a side of refreshing coleslaw.
Serve the ribs cooked hot with a side of coleslaw. The sweet and spicy flavours of the ribs pair perfectly with the cool and refreshing coleslaw, making for a well-rounded and satisfying meal.
Sweet chilli ribs with coleslaw is a great meal option for a casual dinner party or a weekend barbecue. It's also a perfect dish for leftovers, as the ribs can be reheated and enjoyed for a few days after they're cooked. Give this flavourful and hearty dish a try and impress your guests with its bold and delicious flavours.