This roast tomato and garlic soup recipe is the perfect soup recipe for any occasion. It will warm you up on a cold day and cheer you up when you're feeling under the weather.
With just 3 main ingredients, its an affordable meal that you can make to feed the whole family as part of an entrée or even as the main meal. Best served hot and fresh with a nice spoonful of mascarpone and sourdough bread.
View steps to make Roast Tomato & Garlic Soup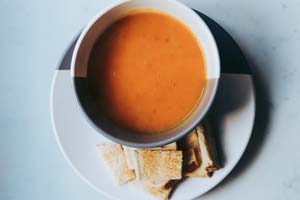 Roast Tomato & Garlic Soup Ingredients
Utensils
---
Making the Roast Tomato & Garlic Soup
Notes & Tips
Serve immediately with toasted sourdough bread and a spoonful of mascarpone cheese into each bowl.
Roast tomato and garlic soup is a simple and flavourful soup that's perfect for a cozy meal on a chilly day. This soup is made with roasted tomatoes and a few basic seasonings.
The soup can be served hot with a garnish of fresh herbs, croutons, or a drizzle of olive oil. This soup is comforting and hearty, and the roasted tomatoes and garlic give it a rich and savoury flavour.
Roast tomato and garlic soup is also a healthy meal option, as it's low in calories and packed with vitamins and minerals. It's a great way to incorporate more vegetables into your diet while enjoying a delicious and satisfying meal. Give this easy and flavourful soup recipe a try and warm up with a bowl of comforting goodness.