This spiced dal soup recipe is a delicious and hearty soup. No matter whether you spell it Daal, dail, dhal, dahl or just dal, this is a classic Indian dish that you want to try.
The dal soup is vegetarian and vegan too if you omit the natural yoghurt topping. Depending on how much pepper and spice depends on how hot in flavour your soup will be.
View steps to make Spiced Dal Soup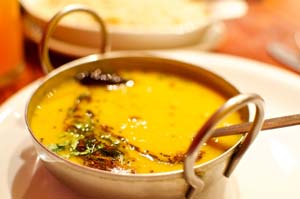 Spiced Dal Soup Ingredients
Utensils
---
Making the Spiced Dal Soup
Notes & Tips
Per serve • 1900kj (452 Cals) • 15.4g protein • 13g fat (4.1g sat fat) • 67.6 carbs (6.7g sugars) • 1.9g fibre • 1978mg sodium
Spiced dal soup is a flavourful and comforting soup that is popular in Indian cuisine. It is made with lentils, spices, and vegetables, and is typically served as a main dish with rice or bread.
Once the dal soup is ready, serve it hot with a side of rice or bread. Spiced dal soup is a healthy and filling meal option, as lentils are high in protein and fibre and the vegetables add essential vitamins and minerals. It's also a great vegetarian or vegan option for those looking to incorporate more plant-based meals into their diet.
Give this flavourful and comforting spiced dal soup a try and savour its rich and aromatic flavours. It's sure to warm you up and satisfy your taste buds on a chilly day.