This classic scone recipe has to be one of the best scone recipes around. It is the perfect snack to have with your morning tea for any occasion. This recipe is extremely simple to make with only 4 main ingredients.
Make sure you eat them while they are still warm with a healthy serving of your preferred jam and whipped cream on top.
View steps to make Simple Scone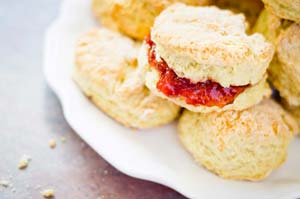 Simple Scone Ingredients
Utensils
---
Making the Simple Scone
Notes & Tips
Serve halved with Jam and whipped cream on top.
If you are baking on more than one tray, swap the trays over for the last couple of minutes so that the bottom tray of scones can brown too.
A scone is a classic and delicious pastry that's perfect for breakfast, brunch, or a mid-day snack. These tender and flaky treats are easy to make and can be customised with a variety of sweet or savoury ingredients.
Bake the scones in the oven until they're golden brown and fragrant. Serve them warm with a dollop of butter or jam, or enjoy them on their own.
Simple scones are a versatile pastry that can be adapted to suit any taste preference. If you're feeling extra adventurous, try adding in different flavourings such as lemon zest or vanilla extract, or savoury ingredients such as cheese and herbs. With a few basic ingredients and some creativity, you can make delicious and satisfying scones at home.