This salty dog cocktail recipe is made up of only two ingredients. It uses gin as the spirit and fresh grapefruit juice as the mix.
This cocktail is almost identical to a greyhound cocktail but the Salty dog has a salt rim. It is believed that the Salty dog with invented in the 1920s.
The drink was made famous by being a favourite drink on the Larry Sanders Show in the 90's.
View steps to make Salty Dog Cocktail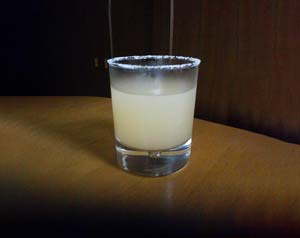 Salty Dog Cocktail Ingredients
Utensils
---
Making the Salty Dog Cocktail
Glass Salt Rim
Cocktail
Notes & Tips
- The Gin can be substituted for vodka and is often the spirit used in bars.
- You can add ice to the Salty dog cocktail if you wish but it is traditionally not served with ice.
- Fresh grapefruit juice is best.
The Salty Dog cocktail is a refreshing and simple cocktail that is perfect for hot summer days. It is a variation of the classic Greyhound cocktail and is made with grapefruit juice, gin or vodka, and a salted rim.
This salty dog cocktail recipe creates a tangy and refreshing cocktail that's perfect for sipping on a hot day.
The Salty Dog is a versatile cocktail that can be adapted to suit your taste preferences. You can adjust the amount of grapefruit juice or type of alcohol to make it stronger or weaker, or experiment with different types of salt or garnishes. Give this simple and refreshing cocktail a try and enjoy its tangy and salty flavours.