This chicken and cashew stir-fry has to be one of the tastiest wok cooked recipes. It is perfect for when you want to have veggies whilst also having a great tasting meal.
Stir-frying is one of the quickest and healthiest ways to cook as it retains nutrients and is fuel-efficient. This is because of the curved base of the wok distributing the heat quickly and evenly across the cooking surface.
View steps to make Chicken & Cashew Stir-fry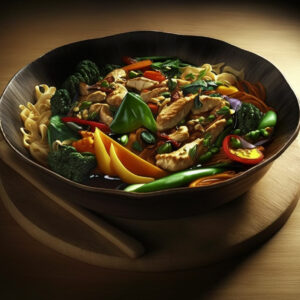 Chicken & Cashew Stir-fry Ingredients
Utensils
---
Making the Chicken & Cashew Stir-fry
Notes & Tips
Calories 450; Kilojoules 1370; Fat 31g; Carbohydrates 12g; Fibre 5g; Protein 31g; Cholesterol 50mg.
If you do not have the chicken stock, you can use water, salt and white pepper to taste.
Serve with a small bowl size of rice.
You can change the broccoli for beans or add the beans in too.
Chicken and cashew stir-fry is a quick and easy meal that is perfect for a busy weeknight dinner. This flavourful dish is packed with protein, vegetables, and crunchy cashews, making it a well-balanced meal that will leave you feeling satisfied.
This dish can be served over rice or noodles for a complete meal. It's a great way to use up leftover vegetables and can be customised to your taste preferences. Plus, the leftovers make for a tasty and convenient lunch the next day. Try making this chicken and cashew stir-fry for a satisfying and delicious meal in just minutes!