This chicken and cashew stir-fry has to be one of the tastiest wok cooked recipes. It is perfect for when you want to have veggies whilst also having a great tasting meal.
Stir-frying is one of the quickest and healthiest ways to cook as it retains nutrients and is fuel-efficient. This is because of the curved base of the wok distributing the heat quickly and evenly across the cooking surface.
View steps to make Chicken & Cashew Stir-fry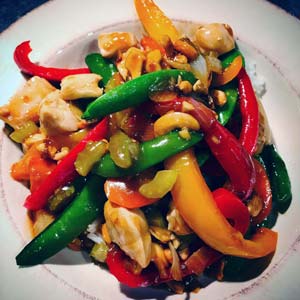 Chicken & Cashew Stir-fry Ingredients
Utensils
---
Making the Chicken & Cashew Stir-fry
Notes & Tips
Calories 450; Kilojoules 1370; Fat 31g; Carbohydrates 12g; Fibre 5g; Protein 31g; Cholesterol 50mg.
If you do not have the chicken stock, you can use water, salt and white pepper to taste.
Serve with a small bowl size of rice.
You can change the broccoli for beans or add the beans in too.
Tagged in Dinner Recipes, Lunch Recipes In the following cuisines Chinese Recipes Published on Posted on Add Comment