The leek and potato soup recipe is one you will want to try on the next cool winters day. Its smooth and creamy and ever so tasty.
This soup recipe is tasty enough for the whole family to enjoy. Whether you are getting cosy and comfy or just want a quick and easy healthy soup recipe then the leek and potato soup recipe is the one for you.
View steps to make Leek and Potato Soup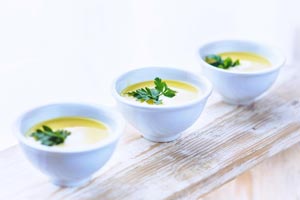 Leek and Potato Soup Ingredients
Utensils
---
Making the Leek and Potato Soup
Notes & Tips
Add the optional cream when serving. Also goes nicely with hot buttered bread.
If you want to make the soup look extra fancy, garnish with a sprig of parsley.
Leek and potato soup is a classic and comforting soup that is perfect for chilly days. It's a simple and delicious soup that can be made with just a few basic ingredients.
This leek and potato soup recipe makes a satisfying and filling soup that's perfect for lunch or dinner. It's also a great way to use up leftover vegetables and pantry staples. Serve the soup hot with a side of crusty bread or crackers for a delicious and comforting meal. Give this classic soup a try and enjoy its rich and comforting flavours.