This mango parfait recipe is a decadent parfait that will surely impress your guests these holidays. It is both a rich and indulgent dessert for when mangos are in season. Mango parfait is a healthy, colorful, and easy to make dessert.
Not only does the mango parfait look amazing but the taste is a sensation that will make you want more and more.
View steps to make Mango Parfait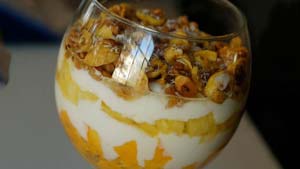 Mango Parfait Ingredients
Utensils
---
Making the Mango Parfait
Preparing Irish Moss
Coconut and Walnut Cream
Crumbly Crunch Topping
Notes & Tips
If mangos are not available or in season then you can substitute it for mixed berries or other soft and sweet fruits.
Mango parfait is a delicious dessert that is made with layers of ripe mango, whipped cream, and yogurt, often topped with granola or other crunchy toppings for added texture.
The dish is typically served in a tall glass, allowing for the beautiful layers of mango and cream to be showcased. Mango parfait is a perfect dessert for warm summer evenings, as it is light and refreshing, yet still indulgent and satisfying.
The sweet and juicy flavor of the mango pairs perfectly with the creamy texture of the whipped cream and yogurt, creating a harmonious blend of flavors and textures.
Mango parfait is a versatile dessert that can be customized to suit individual tastes, with different types of fruits and toppings added to suit individual preferences.
Whether enjoyed as a post-meal treat or as a midday snack, mango parfait is a delicious and satisfying dessert that is sure to delight the taste buds.