This mango parfait recipe is a decadent parfait that will surely impress your guests these holidays. It is both a rich and indulgent dessert for when mangos are in season. Mango parfait is a healthy, colorful, and easy to make dessert.
Not only does the mango parfait look amazing but the taste is a sensation that will make you want more and more.
View steps to make Mango Parfait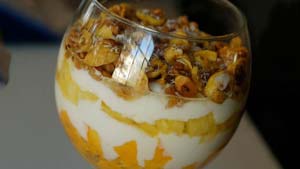 Mango Parfait Ingredients
Utensils
---
Making the Mango Parfait
Preparing Irish Moss
Coconut and Walnut Cream
Crumbly Crunch Topping
Notes & Tips
If mangos are not available or in season then you can substitute it for mixed berries or other soft and sweet fruits.
Tagged in Dessert Recipes In the following cuisines American Recipes, French Recipes Published on Posted on Add Comment