The Cosmopolitan cocktail is one of the prettiest and more popular cocktails that you will find at a bar. It is made with vodka, triple sec, cranberry juice, and freshly squeezed lime juice and is a drink that is easy to make yourself.
The cosmopolitan cocktail or informally the cosmo is a modern America cocktail creation. The exact origin is unknown however it gained popularity in the 1990's and is mentioned frequently on the television show Sex and the City.
View steps to make Cosmopolitan Cocktail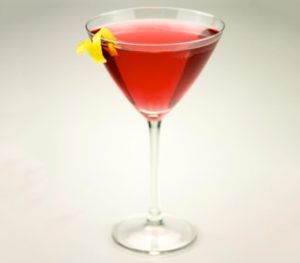 Cosmopolitan Cocktail Ingredients
Utensils
---
Making the Cosmopolitan Cocktail
Notes & Tips
- Garnish with a wedge of a lime or with a slither of orange peel.
- The drink should be a frothy bright pink colour.
- Citrus flavored vodka can be used to give the cosmo a kick but traditionally unflavoured vodka is used.
- A virgin (alcohol free) Cosmopolitan can be made by replacing the Vodka and Triple Sec with orange juice and pink lemonade making it a delicious treat and fancy treat for the kids.
Tagged in Drink Recipes In the following cuisines American Recipes Published on Posted on Add Comment