The Long Island Iced Tea is an alcoholic cocktail drink typically mixed with five spirits and a splash of cola or lemon juice. The spirits mixed include vodka, tequila, light rum, triple sec and gin.
This is a strong alcoholic drink due to its higher alcohol concentration compared to other highball drinks due to there being less mixer than other cocktail drinks.
View steps to make Long Island Iced Tea Cocktail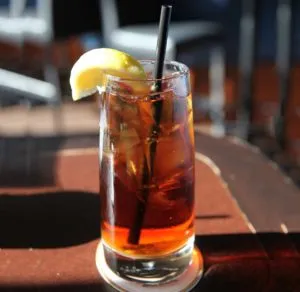 Long Island Iced Tea Cocktail Ingredients
Utensils
---
Making the Long Island Iced Tea Cocktail
Notes & Tips
– Garnish with a Lemon Twist and Mint leaves.
– Serve with a straw and stirrer.
– The long island iced tea is served on the rocks (with ice in the cup)
Long Island Iced Tea is a popular cocktail that packs a punch with its potent mix of spirits.
The drink typically consists of equal parts of vodka, gin, rum, tequila, and triple sec, mixed with a splash of cola and sour mix, and served over ice in a tall glass. Despite its name, the cocktail contains no tea, but its golden brown color and refreshing taste make it a popular choice for warm weather occasions.
The Long Island Iced Tea is a complex and boozy cocktail that is not for the faint of heart, but its sweet and sour taste and high alcohol content make it a favorite among partygoers and cocktail enthusiasts alike.
It can be garnished with a slice of lemon or lime for a citrusy twist, making it a versatile and enjoyable cocktail that is perfect for any occasion.