The piña colada is a sweet and tasty cocktail made with rum, coconut cream and pineapple juice. It can be blended, frozen, or mixed with ice, depending on your preference. Pina colada means "strained pineapple" in Spanish which is a reference to the fresh pineapple ingredient used in this drink.
The pina colada cocktail is usually garnished with either a pineapple wedge and maraschino cherry. You may also find a tiny umbrella in the pineapple garnish as it is considered a tropical drink.
View steps to make Piña Colada Cocktail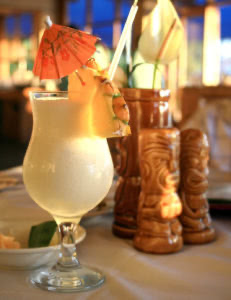 Piña Colada Cocktail Ingredients
Utensils
---
Making the Piña Colada Cocktail
Notes & Tips
Garnish the pina colada with a pineapple slice. If you want to get extra fancy, add a cocktail parasols (miniature umbrella) to the pineapple slice.
Serve with a straw.
Piña Colada is a classic tropical cocktail that is loved for its creamy, sweet and refreshing taste.
The drink typically consists of rum, coconut cream or coconut milk, and pineapple juice, blended with ice to create a smooth and frothy consistency. The pineapple adds a tangy sweetness to the cocktail, while the coconut milk or cream provides a rich and creamy texture.
This cocktail is a popular choice for beach vacations and tropical getaways, but can also be enjoyed at home with friends or family.
It can be served in a tall glass with a slice of pineapple and cherry as a garnish, making it a visually appealing and delicious drink that is perfect for any occasion.