The piña colada is a sweet and tasty cocktail made with rum, coconut cream and pineapple juice. It can be blended, frozen, or mixed with ice, depending on your preference. Pina colada means "strained pineapple" in Spanish which is a reference to the fresh pineapple ingredient used in this drink.
The pina colada cocktail is usually garnished with either a pineapple wedge and maraschino cherry. You may also find a tiny umbrella in the pineapple garnish as it is considered a tropical drink.
View steps to make Piña Colada Cocktail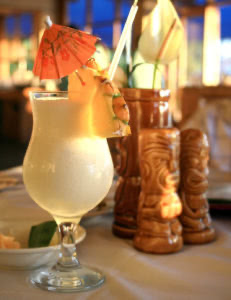 Piña Colada Cocktail Ingredients
Utensils
---
Making the Piña Colada Cocktail
Notes & Tips
Garnish the pina colada with a pineapple slice. If you want to get extra fancy, add a cocktail parasols (miniature umbrella) to the pineapple slice.
Serve with a straw.
Tagged in Drink Recipes In the following cuisines Caribbean Recipes, Spanish Recipes Published on Posted on Add Comment