Who doesn't love a good chunky chocolate chip cookie? This choc cookie recipe is a family favourite snack or lunchbox treat. There is nothing better than smooth chocolate goodness and guilt-free rolled oats melting in your mouth.
It is a simple recipe that the whole family will enjoy. Chunky chocolate and oat cookies are the best little afternoon pick me up.
View steps to make Oat and Choc Chunk Cookies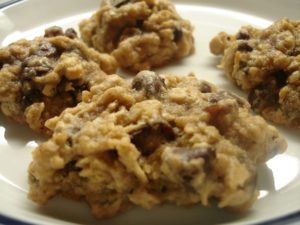 Oat and Choc Chunk Cookies Ingredients
Utensils
---
Making the Oat and Choc Chunk Cookies
Notes & Tips
Optionally drizzle melted milk or white chocolate over the cookies for extra indulgence. Set aside until the chocolate is set.
Store in an airtight container. Not that they will last that long to be needed to be stored in a container ;)
Oat and choc chunk cookies are a classic treat that are loved by both kids and adults alike.
These cookies are made with wholesome ingredients such as oats, flour, butter, and sugar, and are studded with chunks of delicious chocolate for an added touch of sweetness.
The oats give the cookies a chewy and hearty texture, while the chocolate chunks provide bursts of melty chocolate goodness in every bite.
These cookies are easy to make and perfect for any occasion, from a casual snack to a special treat for a party or gathering.
They can also be easily customized by adding nuts, dried fruits, or different types of chocolate, making them a versatile and delicious treat that is sure to please everyone's taste buds.