Who doesn't love a good chunky chocolate chip cookie? This choc cookie recipe is a family favourite snack or lunchbox treat. There is nothing better than smooth chocolate goodness and guilt-free rolled oats melting in your mouth.
It is a simple recipe that the whole family will enjoy. Chunky chocolate and oat cookies are the best little afternoon pick me up.
View steps to make Oat and Choc Chunk Cookies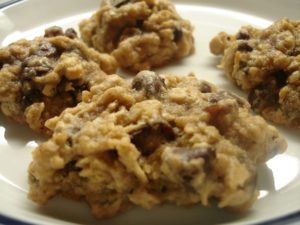 Oat and Choc Chunk Cookies Ingredients
Utensils
---
Making the Oat and Choc Chunk Cookies
Notes & Tips
Optionally drizzle melted milk or white chocolate over the cookies for extra indulgence. Set aside until the chocolate is set.
Store in an airtight container. Not that they will last that long to be needed to be stored in a container ;)
Tagged in Snack Recipes In the following cuisines American Recipes Published on Posted on Add Comment