If you like a good burger then these lamb burgers, with traditional tzatziki and light salad, are the right ones for you. Homemade burger recipes are always a winner. These lamb and tzatziki burgers are simple and easy summer dinner recipe.
View steps to make Lamb and Tzatziki Burger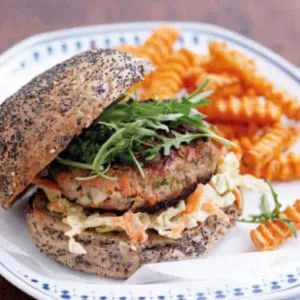 Lamb and Tzatziki Burger Ingredients
Utensils
---
Making the Lamb and Tzatziki Burger
Notes & Tips
Double the cabbage mixture and serve as a side with chips.
Lamb and tzatziki burger is a delicious and flavorful twist on the classic burger.
The lamb patty is made with ground lamb mixed with aromatic spices like cumin, coriander, and paprika, and then grilled or pan-fried to perfection. The tzatziki sauce, made with yogurt, garlic, cucumber, and dill, is a refreshing and tangy addition to the burger that pairs perfectly with the rich and juicy lamb.
The burger is typically served on a soft and toasted bun, topped with fresh lettuce, tomato, and onion, and sometimes feta cheese.
This burger is a great way to mix up your burger game and enjoy a tasty and exotic variation that is sure to impress your family and friends. It's easy to prepare, and can be enjoyed for lunch or dinner, especially during the warm summer months when grilling is at its prime.