Crispy and golden tender chicken breasts, covered in breadcrumbs and fried. This is a dinner that kids will love to eat. It is a light and healthy Aussie lunch or dinner.
The coleslaw side is the perfect balance of healthy and tasty to compliment the tasty chicken schnitzel.
View steps to make Chicken Schnitzel with Coleslaw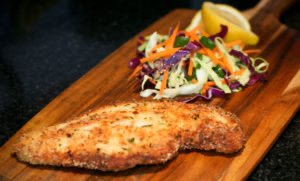 Chicken Schnitzel with Coleslaw Ingredients
Utensils
---
Making the Chicken Schnitzel with Coleslaw
Preparing the Chicken Schnitzel
Preparing the Coleslaw
Notes & Tips
Make your coleslaw colourful by using ¼ head each red and green cabbage.
Chicken schnitzel with coleslaw is a classic and hearty meal that is popular around the world.
The chicken schnitzel is made by pounding chicken breasts until they are thin and tender, then coating them in a mixture of flour, eggs, and breadcrumbs. The chicken is then fried until golden brown and crispy, creating a crunchy and flavorful exterior that contrasts perfectly with the juicy and tender chicken inside.
The coleslaw is a refreshing and tangy side dish made with shredded cabbage, carrots, and a creamy dressing made with mayonnaise, vinegar, and mustard. The coleslaw provides a perfect balance to the richness of the chicken schnitzel, and adds a crunchy texture that complements the crispy coating of the chicken.
This dish is easy to make and perfect for a quick and satisfying meal that is sure to please the whole family.
It can also be easily customized by adding your favorite spices or herbs to the chicken coating, or by substituting the coleslaw for your favorite side dish.