A traditional and old-fashioned pie that is delicious, creamy and rich. Perfect for when you need a fine and fancy dinner in a jiffy. This is a great chicken pie recipe for when you need to eat healthy comfort food that wont break the bank.
Turn this classic chicken pie recipe into a delicious family favourite. It goes well dressed with salad greens.
View steps to make French-Style Chicken Pie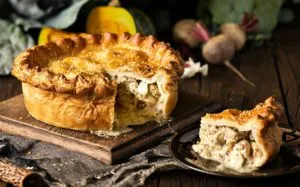 French-Style Chicken Pie Ingredients
Utensils
---
Making the French-Style Chicken Pie
Notes & Tips
Serve with mashed potatoes or a mixed green salad.
French-style chicken pie, also known as chicken pot pie, is a comforting and classic dish that is perfect for a cozy family dinner.
The filling is made with tender chunks of chicken, sautéed with onions, carrots, and celery, then simmered in a creamy and flavorful sauce made with chicken broth, cream, and a touch of white wine. The filling is then poured into a deep-dish pie crust, and topped with a second layer of pie crust or puff pastry, creating a crispy and golden crust on top. The pie is then baked until the filling is hot and bubbly and the crust is golden brown.
This dish is perfect for using up leftover chicken or for making in advance and reheating for a quick and easy weeknight dinner.
It is also easy to customize by adding your favorite vegetables or herbs to the filling, creating a dish that is uniquely yours.