The Manhattan cocktail recipe is made with rye whiskey, sweet vermouth, and bitters. The cocktail is served in a cocktail glass and often served with a maraschino cherry.
There are many different variations of the manhattan cocktail. They are made by replacing one of the ingredients with another such as types of whisky or brandy. It is said to have originated in Manhattan, New York where it got its name.
View steps to make Manhattan Cocktail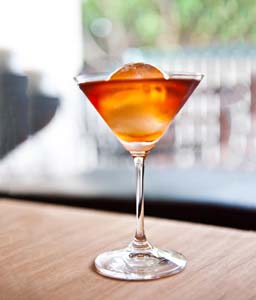 Manhattan Cocktail Ingredients
Utensils
---
Making the Manhattan Cocktail
Notes & Tips
You may prefer to shake your Manhattans rather than stirring. If shaken, your Manhatten will be more cloudy and topped with an algae-like foam. It will also feel thinner on the tongue.
Tagged in Drink Recipes In the following cuisines American Recipes Published on Posted on Add Comment