The old fashioned cocktail is a sophisticated drink of the modern man or lady. It is made by mixing sugar with bitters and adding whisky. The old fashioned is served in an old fashioned (rocks) glass with a twist of citrus rind.
The old fashioned cocktail has been around since the 19th century and has been portrayed in blockbuster film and television shows dozens of times.
View steps to make Old Fashioned Cocktail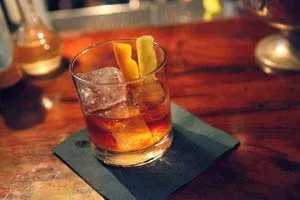 Old Fashioned Cocktail Ingredients
Utensils
---
Making the Old Fashioned Cocktail
Old Fashioned cocktail is a classic drink that has been enjoyed for generations.
This cocktail recipe features a mixture of rye whiskey (or bourbon), a sugar cube (or simple syrup), bitters, and a twist of citrus peel, served over ice in a short glass.
The sugar adds a touch of sweetness that balances out the bitter notes of the bitters, while the whiskey provides a rich and robust base flavor. The cocktail can be garnished with a twist of orange or lemon for added visual appeal.
Old Fashioned cocktail is perfect for sipping on a cozy night in or enjoying with friends at a bar. Its timeless flavors and simple preparation make it a favorite among cocktail enthusiasts.