The negroni cocktail recipe is a common cocktail drink originating from Italy. The negroni is made of one part gin, one part red semi-sweet vermouth and one part Campari. It is served in an old fashioned glass and garnished with an orange slice.
The negroni has many variations by replacing some of the spirits with others such as whiskey and tequila.
View steps to make Negroni Cocktail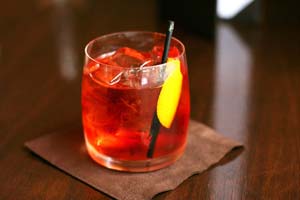 Negroni Cocktail Ingredients
Utensils
---
Making the Negroni Cocktail
A Negroni cocktail is a classic Italian drink that is known for its bold and bitter flavors.
This cocktail recipe features a mixture of gin, Campari, and sweet vermouth, stirred with ice and served over ice in a chilled glass. The gin provides a botanical base, while the Campari adds a bitter, herbal flavor that is balanced by the sweetness of the vermouth.
The cocktail can be garnished with a twist of orange for added visual appeal. Negroni cocktail is perfect for sipping before dinner or as a nightcap, and its complex and bold flavors make it a favorite among cocktail enthusiasts.
Whether you're a fan of bitter flavors or just looking for a sophisticated and delicious drink, Negroni cocktail is sure to satisfy your cravings.